$16.95
Shipping and handling on all US orders is a flat $5.00 regardless of the order size. Foreign orders will be charged the exact amount of shipping only. Please contact us for a price quote, and we'll get right back to you.
Description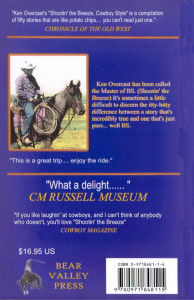 Just pull your boots off and relax. You've got a ring side seat as one incredible story after another unfolds right before your very eyes. The vast majority of these little short stories are true…. at least they were sort of true when they happened…. since then, well they may have accidentally been embellished just a little…. all for the sake of an eager audience that really WANTS to believe every word. You'll probably catch yourself trying to interrupt with a wild tale of your own. After all…. isn't that what Shootin' the Breeze is all about?
"I've taken your book to bed with me the last couple of nights and laughed myself to sleep both of them. As a senior citizen, I can hardly remember having this much fun before falling asleep……"
Anonymous
ISBN-13: 978-0-9718481-1-5 Trade paperback
5.5 x 8.5 240 pages / 83 photos and illustrations
Cover painting by H. Steven Oiestad.
Illustrations by Ben Crane.
240 Pages of pure fun!