$16.95
Yesterday's Yarns by Ken Overcast is a collection of stories from the Real West. Ken says that, "Except for the itty bitty parts I made up, they're all plum true." Actually, some are completely historically accurate, while many of the others don't have a shred of truth. In both cases, the reader is instantly transported to a more innocent time and place where real cowboys still spin yarns around their roundup fires. 240 Pages with Photos and Illustrations by the World Famous Ben Crane
Shipping and handling on all US orders is a flat $5.00 regardless of the order size. Foreign orders will be charged the exact amount of shipping only. Please contact us for a price quote, and we'll get right back to you.
Description
Finally, your favorite Meadow Muffin stories in a book!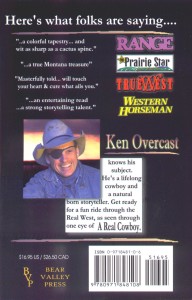 Yesterday's Yarns by Ken Overcast is a collection of stories from the Real West. Ken says that, "Except for the itty bitty parts I made up, they're all plum true." Actually, some are completely historically accurate, while many of the others don't have a shred of truth. In both cases, the reader is instantly transported to a more innocent time and place where real cowboys still spin yarns around their roundup fires.
ISBN-0-9718481-0-6
Trade paperback, 5.5 x 8.5
240 pages / 77 photos and illustrations