Description
Stories from a Montana Back Porch!
From the Real West
A Fantastic Collection of Ken Overcast's Cowboy Stories!
Illustrated by Ben Crane
Want to take a Fun Trip into The Real West?
"Come and listen in on a few tales that some of us boys
spun when we got together not long ago. I've got a feelin'
you're gonna enjoy them as much as we did."
Ken Overcast has done it again!
Tradin' Tales, Stories from a Montana Back Porch is a collection of Ken's famous, knee slappin' stories from the Real West.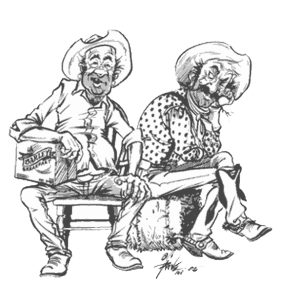 Featuring Dick & Billy
Two of the West's most
unforgettable characters!
ISBN-13: 978-0-9718481-2-2 Trade paperback
5.5 x 8.5 240 pages / photos and illustrations
Cover painting by H. Steven Oiestad.
Illustrations by Ben Crane.
240 Pages of pure fun!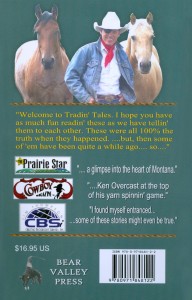 Tradin' Tales - Book Reviews

Here's what folks are saying....
"....Ken Overcast at the top of his yarn spinnin' game."
Darrell Arnold, Cowboy Magazine

"....a glimpse into the heart of Montana."
Shannon Ruckman, The Prairie Star

"....makes you wonder if maybe he hasn't lived all these stories himself."
Tami Jo Blake, Agri-News

"...I found myself entranced ... some of these stories might even be true!"
Jim Thompson, CBSi